INDCO's October Top Seller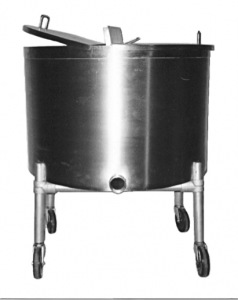 All-purpose portable industrial mixing vats were the most popular product in October 2014.
The portable 304 stainless steel mixing vats are designed for ergonomic working heights with sloped bottoms that drain completely into 5-gallon pails. Standard sizes are available in a 30 gallon model up to 150 gallons. Model ISSV-150 was the most popular version and is a 150-gallon vat that is 37-1/2" in diameter, 50-1/2" tall and stands on four 17" legs welded to the vat and includes supporting crossbars. The standard lid is hinged and slotted for easy mixer shaft entry. A 2" NPT threaded drain provides easy transfer of liquids to smaller containers. Bung plugs and drain faucets are available and sold separately..
Another popular vat option is the industrial vat without casters. These ISMV series general purpose mixing vats makes small batch processing simple. Features include dual welded side handles for ease of movement, a 2" NPT threaded drain and a hinged cover with two handles. The 16 gauge 304 stainless steel is corrosion and rust resistant, and the interior has a satin finish suitable for a variety of industrial applications. The units come complete with a hinged lid but an optional cover with a 2-3/4" X 12-1/8" slot for a mixer shaft is available.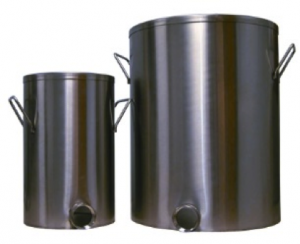 Contact INDCO customer service for a custom quote at 800-682-1660.