Save Time and Money with INDCO Commercial Paint Mixing Machines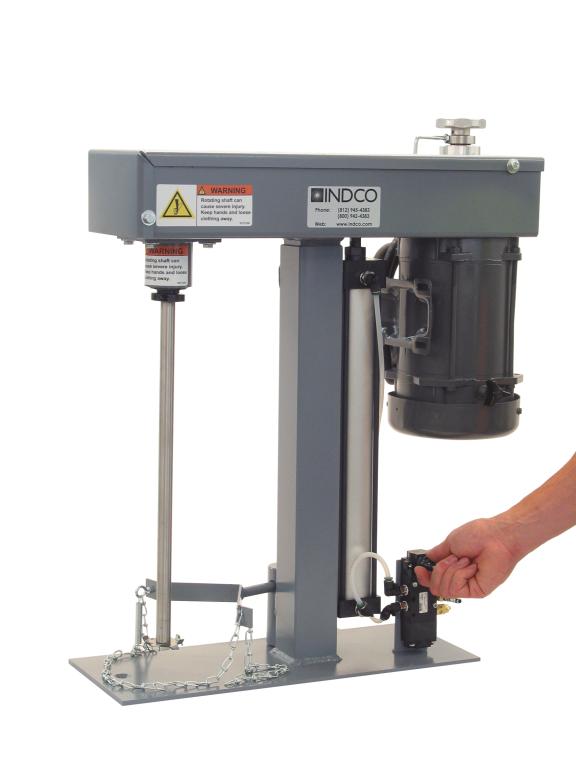 Did you know that when INDCO was founded in 1975 our very first products were paint mixers? So, it's no wonder that nearly 50 years later we are still the leader in commercial paint mixing machines for a variety of large and small businesses across the United States. And whether you operate a local hardware store or a large-scale production facility within the paint industry, you know that consistent, high-quality product is key to keeping costs down and customers satisfied.
But are you using the right paint mixing equipment? As e-commerce grows and more and more consumers are buying paint for home and business improvements, demand is at an all-time high. If you're finding your business is growing along with that demand, it might be time to rethink your old or outdated machinery and consider investing in industrial mixers through INDCO that bring cost-effective efficiency to the forefront.
And we understand that mixing industrial paint can be a costly process—especially initially when equipment is purchased or replaced. But as modern paints evolve to be longer-lasting, mixed into thousands of colors, and friendlier to the environment (and the painter), it's more important than ever to ensure that both your process and output are performing at their highest level to maximize profitability and efficiency. But reliability of product is not the only benefit of switching to higher-quality commercial paint mixers. You could also expect:
Reduction of mixing time and downtime for increased productivity.
High-quality, energy-efficient construction of equipment for years of reliable usage.
Specialized solutions that are customizable for any project scope or work environment.
Improved safety for team members at every level of the process.
Plus, if you don't already mix your own paint, investing in industrial paint mixers could be a great way to control your profits and losses every step of the way.
Which commercial paint mixer is right for you and your budget? At INDCO, we offer a wide array of equipment options like high-shear dispersers for pigment addition, top-mounted tank mixers for let-down processing, benchtop mixers, stirrers and impellers, drum mixers (a popular choice for the paint industry), IBC tote mixers and so much more. So, whether you need something as small as the 1/2 HP Electric Benchtop Disperser for one-gallon jobs, the heavy-duty 10 HP TEFC Disperser for mixing up to 200 gallons, or anything in between, we've got you covered.
And while standard system configurations are readily available, we also have a team of expert engineers ready to roll up their sleeves to create a custom setup that meets any application needs—just another INDCO advantage.
If you're ready to start saving more time and money, make the switch or upgrade your current system today by shopping our full line of commercial paint mixing machines, parts, and accessories any time online or through our digital catalog. Our customer service team is always available to answer any questions, or, if you are ready to discuss your needs with an INDCO engineer, visit our contact page today or call us at 1-800-851-1049 to get started.