When to Make the Switch to Industrial Mixing Equipment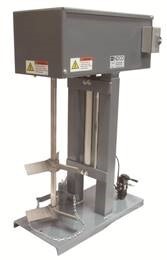 The COVID-19 pandemic has affected industries of all types globally, but online shopping has offered a unique point of access for many small business owners. As physical storefronts begin to reopen and consumer demand increases this year, businesses might find that their machinery is not keeping up with both online and brick-and-mortar sales. Industrial mixers can bring necessary efficiency to heightened production rates this year and beyond.
Why switch to an industrial mixer? As your business and output grow, it's natural to consider investing in equipment that better suits demand. The use of industrial mixers can improve your business' productivity, but it's important to evaluate your materials and needs before switching. If a mixer suits one application but wasn't designed to perform another, it would be costly and inefficient to use the same industrial mixer for both applications. Ideally, matching your industrial mixer with the right materials and batch sizes will lead to higher-quality products, reduced environmental impact and increased sales. So, how can you make your business more efficient? Answer these questions and find out.
What size batch will you be mixing? Small-scale industrial mixers like the lab, pail or handheld mixers range from beaker size to 5-gallon models. These three mixer families are generally electric or air powered. This equipment is versatile and includes accessories to suit your needs. Small and medium-size mixers for industrial and sanitary applications can accommodate batch sizes from less than 100 gallons to several hundred gallons whereas large mixers are available to 5000 gallons and beyond.

What materials are you mixing? Before you purchase an industrial mixer, you should know the specific gravity, or weight per gallon, and the viscosity of the ingredients that will be used. These properties help to determine the size of the motor and the impeller style. Additionally, there are specific requirements for mixing equipment in different industries. Food and beverage industry mixers require higher grade surface finishes, coatings and lubricants than equivalent mixers for chemical applications.Personal care, biomedical or pharma-grade mixers are produced to an even higher standard.

What do these materials do as they are mixed? Communicating the degree of mixing action required to produce the desired results is important.For example, blending miscible liquids requires much less agitation than suspending heavy solids.Are the materials you are mixing corrosive? Flammable? Soluble? Answering these questions can narrow down the industrial mixers types to be considered. This also helps our professionals understand what agitation type your materials call for, and what exactly you expect from your mixer. For example, air powered or explosion-proof electric mixers suit applications like paint solvents which produce flammable fumes.
It's crucial to understand not just the density or specific gravity, viscosity and batch size of the materials you intend to mix, but their reaction once mixed. These factors affect the drive motor type, impeller size, flow pattern, and horsepower needed to effectively combine your ingredients. This knowledge can help you determine how and where the mixing equipment should be mounted, and which utilities you'll require moving forward.
Remaining informed of your industry's codes and regulations is of paramount importance when deciding to switch to industrial mixing equipment. Your needs and the industry's requirements will help identify which INDCO industrial mixers are right for your business.
While we offer a wide range of sanitary and industrial mixers for small- and medium-size applications for the pharmaceutical, food and beverage, cosmetics, and construction industries, you might wish to customize your own mixer or mixing system. With INDCO, you can work with our expert engineering staff to build the equipment you need.
If your mixers are no longer meeting your needs, or you wish to have the capacity to turn out a higher volume of products, look no further. INDCO provides unparalleled quality with unparalleled care. To talk to a customer service representative about your manufacturing goals or work with one of our engineers, visit our contact page today or call us at 1-800-851-1049.