8 Types of Industrial Mixers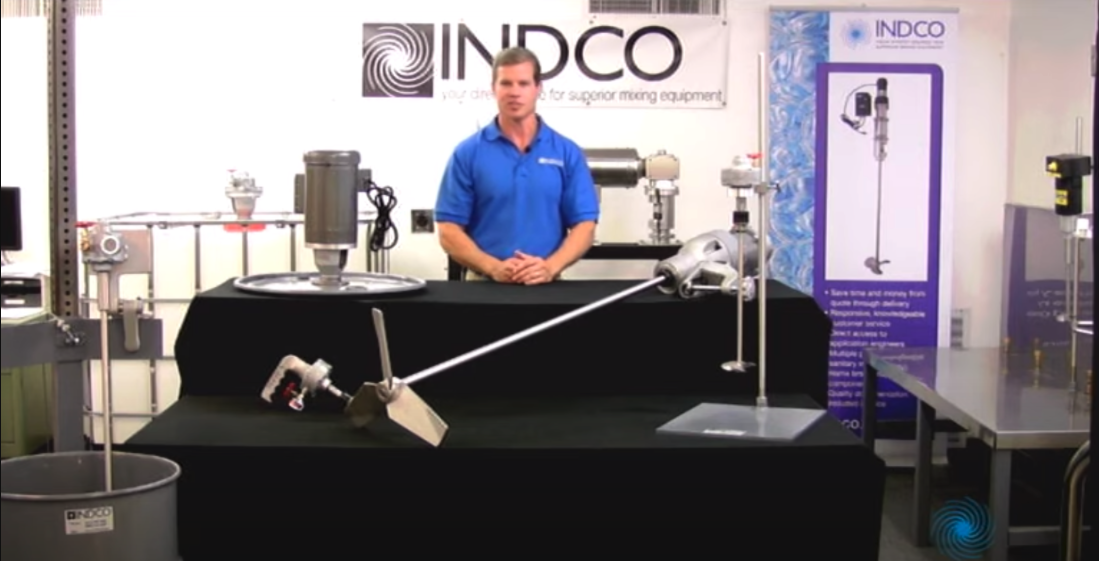 Since 1975, INDCO has specialized in manufacturing industrial mixers for applications ranging from laboratory scale beakers to bulk tanks as high as 50,000 gallons. That's a lot of mixing equipment needs requiring many different types of mixers. Every industry — from chemical and petroleum to paints and sealants — has its unique mixing system demands to provide the desired process outcome and to conform with operational and/or regulatory requirements. We understand that the options can seem daunting. That's why we're providing this general summary of the industrial mixer types we carry complete with specific product examples for each. To view a video on these products, or to see some of our industrial mixing products in action, visit our YouTube page.
Tank Mixers
Tank mixing demands variety in scale, power options and batch volume. Clamp-mount mixers such as INDCO's model GH-075T for portable size open-top tanks are ideal for smaller production size batches and can even be used for some larger tanks sizes for low viscosities only needing gentle agitation. Top-mounted tank mixers like the TM-500 for large-scale jobs are available for both open top and sealed tank systems. Our TM-series mixers are frequently mounted to a cross beam or other existing structure over open vessels. For those that require rigid mounts with sealed or pressurized systems, INDCO offers a large selection of ANSI flange and plate-mounted models including the 1-horsepower FMG-100T that are highly customizable to meet most any industrial application. Common customizations include shaft length, type and number of impellers, lip seals, mechanical seals, materials of construction upgrades, coatings and more. INDCO offers a wide range of standard tank mixer models and many of them, especially the top mounted mixers, are customized in some way.
Sanitary Mixers
For the pharmaceutical, cosmetic and food and beverage industries, intricate knowledge of governing standards is essential. At INDCO, our engineers are equipped to help customers select standard sanitary mixer models including our PhG and PhGM series, or work with them to create custom configurations including mechanical seal arrangements, USP Class VI elastomer parts, wetted part materials certifications, surface finishes and more. The PhD-050T3 is an example of a tri-clamp mounted sealed mixer featuring all stainless steel construction for utilization in aseptic processes.
IBC Tote Mixers
One of INDCO's most diverse mixing categories, IBC tote mixers serves those with the need for producing or distributing liquids in IBC totes. Our highly popular and economical TL-series mixers attach right to the 6" tote opening with its integrated polyethylene plastic tote cap. These mixers are light, easily transferrable and are available in electric or air-powered models. They are recommended for very light liquids versus those of higher density or viscosity. For more rugged applications or higher viscosities our bracket-mount mixers with welded frame designs are a more appropriate choice. The deluxe toggle clamp bracket mount mixers, including the BGTC-150T, quickly and securely connect to the tote cage. This series — our most highly featured and powerful choice for totes — is commonly used for mixing viscosities up to 5,000 cps, which is somewhat challenging in a square tote with only a 6" opening.
Drum Mixers
One of the most common container-specific mixer families used for production and distribution of liquid products is the 55-gallon drum mixer line. INDCO offers a large assortment of drum mixers like the DL-1A to accommodate material properties and drum openings with customizable options for power source, mounting methods or impeller types for low and high-viscosity liquids. INDCO drum mixers can also be upgraded with stainless steel drum lids, seals and other features as required by the customer by working through one of our engineers.
Pail Mixers
For smaller scale jobs, INDCO has a large selection of 5-gallon pail mixers and accessories. Choose from air-driven or electric models that are well-suited for lighter materials, or our heavy-duty pail mixers to set up workstations built to handle higher viscosity materials.
Lab Mixers
These small-scale mixers — commonly referred to as "lab stirrers" — are available in pneumatic or electric motor models with either direct-drive or gear-reduced speeds. Mixing shafts with removable, interchangeable impellers provide versatility, and accessories can be provided by INDCO to create custom lab stirrers to fit any application. Accessories include shafts, impellers, stands, clamps workstations and more.
Handheld Mixers
If you're looking for a portable mixer option that is field-ready, look no further than INDCO's pneumatic handheld mixer selection to find the model that is right for you. The model AM149 mixer features a chuck to accommodate multiple shaft lengths or other mixing attachments such as the popular Jiffy mixer line. INDCO also carries a wide assortment of drill attachments for small batch mixing using an hand-held drill.
Closed-Container Mixers
From tumblers and rotators, to shakers and roller mills, INDCO offers products specifically crafted to handle mixing in closed containers. Similar to most INDCO product lines there are model options for electric or pneumatic power sources. A variety of mixing motions including reciprocating, end-over-end and gyroscopic rotation provide the necessary action to produce product homogeneity without opening the container.
With our fast lead times, best-in-class raw materials and free engineering expertise to help you customize products to suit your needs, there's a reason that when it comes to working with a variety of industries INDCO is always in the mix.
INDCO provides unparalleled quality with unparalleled care. To talk to a customer service representative or work with one of our engineers, visit our contact page today or call us at 1-800-851-1049.