INDCO ANSI Flange Mount Mixers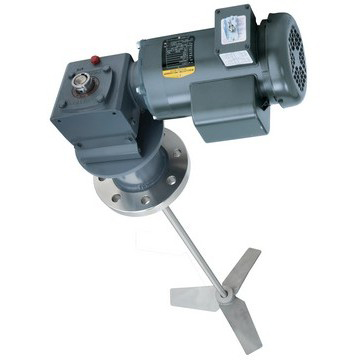 From large volume industrial processes to sealed sanitary mixing applications this versatile product line offers multiple configurations and great value.
INDCO's ANSI Flange Mount Mixers provide a heavy-duty mounting system for agitating large volumes or for mixing critical sealed sanitary batches. This highly adaptable product line meets high or low viscosity mixing challenges in batch sizes to over 5,000 gallons.
A wide selection of direct-drive, gear-driven, single- and variable-speed models with multiple seal, impeller and materials of construction options is available. Modular in design, the flange mount mixer line provides suitability for all types of applications. Key features include:
FLEXBILITY – Standard ANSI flange mounting from 2 ½" to 6" diameter for use with existing standard tank flanges. Available in standard 304SS or optional 316SS to meet the needs of your specific industry requirements.
ADAPTABILTY – Choose from pneumatic or electric motor-driven models to optimize your operation. Single-speed or variable speed capability is available in direct-drive or gear-driven configurations for applications from light to heavy materials. TEFC, explosion-proof, epoxy coated wash-down and stainless steel motors are available.
VERSATILITY – A variety of seal configurations can be applied when necessary to meet the demands of critical sanitary applications. Dry-running mechanical seals or custom seal packages are available.
EFFICIENCY – All wetted shaft and impeller components are 316SS. Our standard 3-blade hydrofoil provides the maximum flow per applied horsepower for optimal energy efficiency. A wide variety of optional impeller styles are available where higher shear or other process parameters are required.
For more than 30 years, INDCO has provided process mixing solutions for thousands of companies. Whether you need specific assistance with motor sizing, materials selection and impeller design, or the design of an entire mixing system, please give us a call. Our engineers are ready and available to help you meet your process requirements.