INDCO's Guide to Choosing the Right Industrial Mixer Stand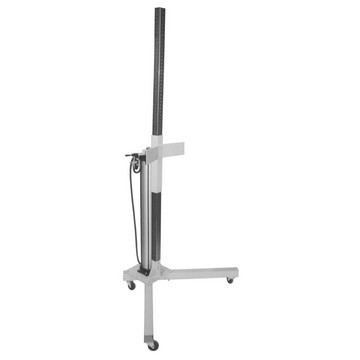 No matter what industry you're mixed up in, you know that the correct industrial mixing equipment matters. And while the mixer you choose is a major consideration, don't forget another vital component—the industrial mixer stand. These supporting products for portable mixers of all types are essential in making sure that processes run smoothly, efficiently, and safely for your team to produce consistent output.
Which industrial mixer stand is right for your application? At INDCO, we carry a wide variety of stands that hold up well in any setting, from a small laboratory to a large-scale production floor. But first, a few considerations should be made about your process before you invest in equipment.
How to Select the Right Industrial Mixing Equipment
Your workspace, raw materials, and desired outcomes for production are all important factors in deciding which type of industrial mixer stand you should choose. To begin, consider the following questions:
What container type are you using? When choosing a mixer stand, size matters. Our industrial tank mixer stands are serviceable for lab scale containers to 300-gallon totes and everything in between.
Will the stand be stationary or portable? Our mixer stands come in models that are built to be floor-mounted or supplied with casters for safe and easy portability.
What type of mixer will be mounted to the stand? Our stands are available for clamp mixers, drum mixers, and IBC tote mixers.
What are your available utilities? While some of our mixer stands are manual or winch lifted, we also carry electric and air-driven models that will require those utilities.
What materials for construction are required? INDCO mixer stands come in painted carbon steel models or stainless steel for sanitary environments. Powder coated epoxy finishes are also an available option by request.
Once you know the answers these questions, choosing the right piece of supporting equipment for your industrial mixer is a clearer task.
Different Types of Industrial Mixer Stands
At INDCO, we carry four main types of mixer stands to suit the different needs of our diverse customer base.
We're confident that we have the right mixer stand for the right job, but if you think you might need something a little more customized, INDCO's team of expert engineers are ready and available to create stand solutions made just for you and your team. And with the best lead times in the industry, you'll get what you need—and fast.
If you'd like to view all of our options for more information, our full line of industrial mixing equipment can be viewed online or in our digital catalog at any time. Our customer service team is always available to answer any questions, or, if you are ready to discuss your needs with an INDCO engineer, visit our contact page today or call us at 1-800-851-1049 to get started.