INDCO: Proud to Serve American Industry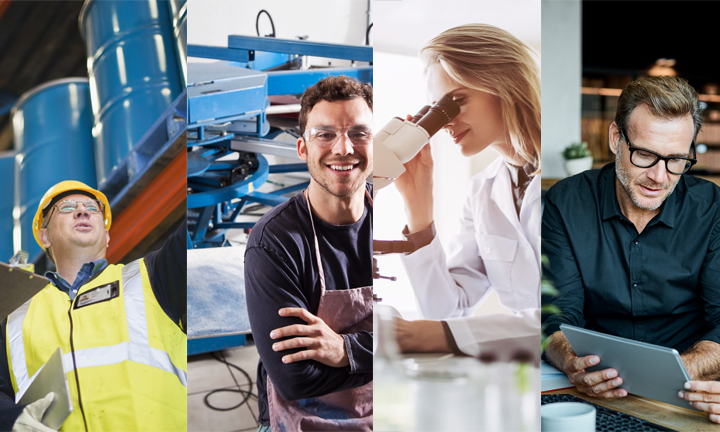 For more the 40 years, INDCO has been a leader in the industrial mixing space. And over those decades, we've been proud to manufacture the Made-in-the-USA products that have helped both our nation's economy and workforce grow in exponential ways. Currently, our country is in an unprecedented time that is challenging our daily lives in how we both work and live. But throughout the COVID-19 pandemic, INDCO has safely maneuvered its processes to continue to serve the many industries that are so vital to our American way of life and keeping our essential workers and beyond safe and provided for.
What industries do we serve? The list is long.
PAINTS, COATINGS & SEALANTS
When INDCO was founded in 1975, paint mixers were our first product! The times have changed, and so have paint products. To meet modern usage demand and the environmental standards many consumers seek from their suppliers, INDCO offers a variety of options for the paint, coating and sealant industries. Higher viscosities and solids content in various solvents and formulations require multiple mixing equipment solutions — and from top-mounted tank mixers to benchtop mixers and dispersers, INDCO has a solution for every application.
SANITARY, PHARMACEUTICAL, FOOD & BEVERAGE, COSMETIC
When it comes to producing products that are consumed within or applied to the body, exactness, consistency and safety are key. Whether it's stainless-steel mixers, custom tanks or impellers and other system accessories, INDCO has products for the sanitary industries including the pharmaceutical industry that meet ASME guidelines for bioprocessing equipment in cGMP environments and can provide material certifications, certificates of conformance and general arrangement drawings. For many clients in the sanitary, pharmaceutical, food and beverage and cosmetics industries, our PH-Seriesand TCM-Series mixers are popular options.
CHEMICAL & PETROLEUM
From household cleaning products to fuels and lubricants, the chemical and petroleum industries serve many roles in our daily lives. They also require some of the most ruggedly designed, corrosion-resistant equipment available. We offer more than 2500 standard products like tank mixers and mixing tanks, drum mixers, IBC tote mixers and much more to meet the application needs of producers and manufacturers in these sectors.
INKS & PIGMENTS
Printing inks and other pigment production is a challenging business because material properties can vary widely and viscosities may be very high — and achieving a consistent, homogenous product is critical. Whether you need mixers for laboratory-scale production, or hundreds of gallons, INDCO is up for the challenge. That's why so many of the largest names in the ink and pigment industry use our products. With our high-shear dispersers, laboratory stirrers, mixers and more, we have an array of products to ensure your mixing system is fully configured.
ADHESIVES
Adhesives are a sticky business. This industry offers challenging mixer configurations to produce important products like glues, mastics, tape adhesives and more. For production of adhesives that require mixing viscous materials, high-torque, gear-driven mixers and large impeller-to-tank diameter ratios are often the answer. That's why we offer solutions like floor-mounted or benchtop mixers, portable clamp mixers, pail mixersand more to help produce the stuff that holds it all together.
CONSTRUCTION
We have been proud to support the construction industry as it continues to build. Even during the pandemic, this industry has been one that has continued on — and from remixing settled paint in bulk containers to batch mixing materials on the job site, construction requires many types of industrial mixers. That's why we offer a variety of products from IBC tote mixers or five-gallon paint mixers, to an array of handheld mixers for worksite, distribution centers and production facilities that support construction firms and private contractors alike.
CANNABIS & CBD
One of the latest industries we've been working in is the cannabis/CBD space. This rapidly developing sector is creating new markets like pharmaceutical formulations and food additives for a variety of health and wellness benefits, personal care products and more. And all of these industries have one thing in common: Mixing. For this industry, we've found our PH-Series and TM-Series pharmaceutical-grade sanitary mixers, laboratory stirrers, dispersers and multiple mixing process equipment accessories have been client favorites.
And these are just a sample of the industries we serve. Check out the rest and let us know if your industry isn't listed. We'd love to help and find the right mixer for your business and application needs — no matter how niche.
With our fast lead times, best-in-class designs and free engineering expertise to help you customize products to suit your needs, there's a reason that when it comes to working with a variety of industries INDCO is always in the mix.
INDCO provides unparalleled quality with unparalleled care. To talk to a customer service representative or work with one of our engineers, visit our contact page today or call us at 1-800-851-1049.