INDCO's Answers to 4 Paint Agitator Equipment Questions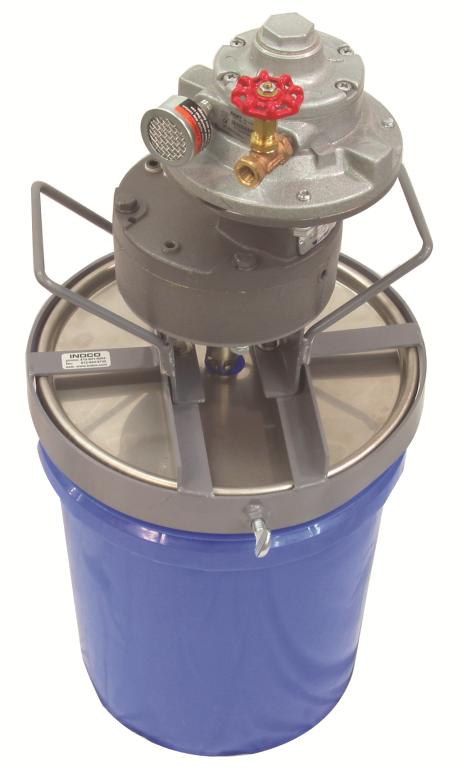 For many industries, agitators (commonly referred to at INDCO as simply "mixers") are valuable pieces of equipment used for a variety of purposes. But for the paint and coatings industry, they are essential. Read ahead to learn our answers to some of the most common questions about this dynamic product category.
WHAT IS A PAINT AGITATOR?
Paint agitator equipment is used to process various media into homogenized, emulsified product utilized in applications from home improvement projects to automobile finishes. These industrial paint mixers are typically configured with a shaft and bottom-vortexing impeller that agitates during the mixing process to combine the raw materials into a consistent, finished blend. When used in totes, drums and other industrial containers, these mixers keep the paints or coatings suspended during production and are utilized following distribution or storage to eliminate the settling or separation of the media, producing quality output at every step of the process.
WHAT PAINT AGITATOR EQUIPMENT IS NECESSARY?
While some equipment needs are commonplace in product category and type, your specific application may require specialized builds and components in order to address any regulatory or industry standards.
At INDCO, our diverse catalog boasts hundreds of mixer equipment options like 1/75 HP laboratory roller mills all the way up to top-entry 30 HP mixers, adjustable-bracket IBC totes, explosion-proof direct drive mixers, tanks, drums, container accessories and so much more—making us confident as a top-level provider for all of your configuration needs.
IF I ALREADY HAVE PAINT AGITATOR EQUIPMENT, WHY SHOULD I CONSIDER AN UPGRADE?
The paint of today is not the paint of yesteryear. Modern paints and coatings have evolved (and continue to do so) to become more sustainable and environmentally friendly with features like low-VOC and water-borne formulations. Additionally, new colors, improved gloss finishes, maximized weatherability, adhesion properties and more are constantly giving engineers new challenges to solve when it comes to production. For many, modern equipment built for modern paint is a viable solution that is both time and cost effective.
Traditionally, high-speed disperser models have been the go-to for the industry—and still work in many settings. But, with several new product technologies emerging, operators may discover that agitator mixer models produce better results with better consistency. And with INDCO's diverse line of paint mixing equipment, development engineers and production managers alike have the opportunity to promote versatility and efficiency with the proper equipment.
WHAT MAKES INDCO THE BEST CHOICE FOR PAINT AGITATOR EQUIPMENT?
With the best lead times in the business, INDCO is the top option to get the equipment you need—and fast. Plus, our team of expert engineers are ready to help you decide which paint mixer equipment is best for your application or start from scratch with you to build a fully customized system that is tailored to your unique business needs and goals.
INDCO's paint agitator products and accessories can be viewed any time online or through our digital catalog. Our customer service team is always available to answer any questions, or, if you are ready to discuss your needs with an INDCO engineer, visit our contact page today or call us at 1-800-851-1049 to get started today.