Customizable 55 Gallon Drum Mixers
INDCO, Inc offers one of the most diverse lines of industrial mixers, tanks and associated process accessories in the industry. While the majority of our sales consist of standard products we frequently make design modifications to suit a given customer application. Our engineers are directly accessible to our customers and we welcome the opportunity to work with them and customize our products to fit their exact needs. We are happy to brainstorm ideas, evaluate mixing applications or to simply size equipment to the batch size and properties of their product.
One of the most common containers utilized for production and distribution of liquid products is the 55- gallon drum.  Chemicals, paints and coatings, and a nearly endless list of specialty products are blended or otherwise processed in drums constructed of carbon steel, stainless steel or polyethylene. The mixing equipment needed for drum processing varies with the properties of the products and with the available drum opening.  Another important step in selecting the right equipment is determination of how the mixer will mount to the drum.  Our drum mixer line is one of the most diverse available and provides multiple options for mounting method, power source and impeller types.
3 Drum Mixer Options:
(DL SERIES)
For a fully-integrated drum lid and mixer combination that is ready to install on an open drum our Drum Lid mixers (DL series) comes pre-mounted on a painted carbon steel drum lid.  Since the mixer is already attached to the drum lid you can quickly move the mixer from drum to drum.  Impeller type and material are customizable in this line and a stainless steel drum lid is an available upgrade option.  Similar to the BU series, this unit can be provided with a lip seal or mechanical. See our video guide on how to assemble and operate a DL1-A mixer on a 55 gallon drum. The video demonstrates what is shipped with your order and how to assemble the mixer on the 55 gallon drum. The video also demonstrates the mixer in action.
In the sample photo of a customized drum lid, the customer needed increased corrosion resistance and the ability to quickly transfer the mixer to other drums so we designed and fabricated lifting eyes on a heavy-duty stainless steel lid.  Additionally, the flange attaching the aluminum mixer base to the drum lid was constructed of stainless steel and stainless steel bolts were utilized.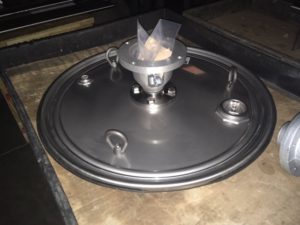 (BU SERIES)
For mixing in closed drums with mixer entry through a 2" NPT bung, the BU series is often the answer.  The simple casting screws directly into the threaded 2" NPT bung fitting.  Because these mixers utilize a folding impeller design that opens when in rotation, impeller customization is limited.   The standard design results in a closed drum mixing configuration but is not fully sealed.  A lip seal or mechanical seal can be implemented as a customization where needed.
(CL SERIES)
For mixing in an open top drum, a simple clamp mount mixer design with a mixer stand is a popular option.  These mixers are attached using a C-clamp design tightened using a hand knob.  For larger mixers of this type or for demanding applications there is a double C-clamp option.  Shaft length, impeller type, coatings, and surface finishes are only a few of the customization's available for these mixers.
Our engineering department and technical sales staff can develop your complete customized mixing system solution. We are available to speak directly to the end user to be sure we understand their needs and design a model appropriate for the application.   Immediate response and attention to details are advantages of working with INDCO.