How Do I Determine What Size Sanitary Tri-Clamp® Connection I Have?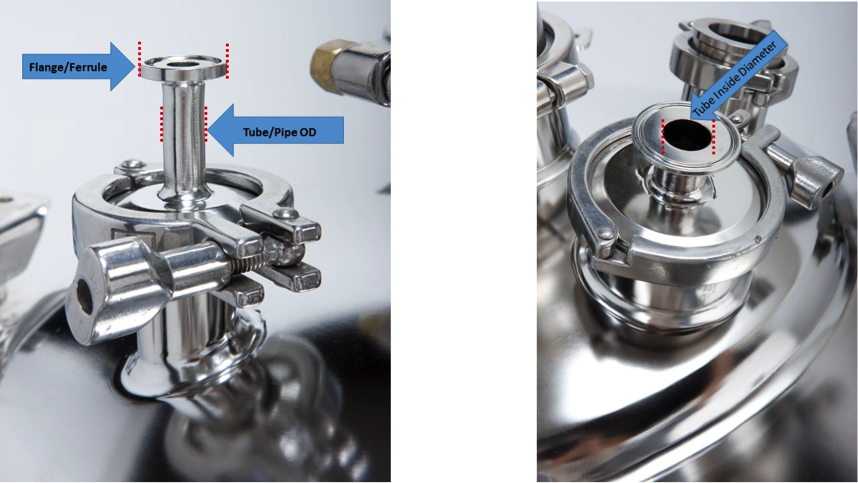 Quality and attention to detail are critical to meet equipment demands in the pharmaceutical and sanitary industries. INDCO is committed to meeting those demands and features industry-standard tri-clamp® or tri-clover® design fittings in its products. Tri-clamp® is a registered trade mark of the Alfa Laval Company.
When choosing an INDCO mixer with a tri-clamp® fitting, it is important to get the measurements right the first time. Whether you are purchasing a tank and mixer combination from INDCO or just purchasing a mixer to match up to your existing equipment, knowing how to identify the size of your tri-clamp® can be tricky.
A tri-clamp® fitting consists of 2 ferrules fastened together by a clamp with a gasket. The tri-clamp® size is identified by measuring the outside diameter of the pipe. It is often mistaken that the outside diameter of the flange end, or otherwise known as ferrule, is interpreted as the size of the tri-clamp but that is not the case. To add to the confusion a 1/2" and 3/4" use the same size ferrule and clamp and the same is true for 1" and 1.5" tri-clamps®. The table below is typical of those provided by many fitting manufacturers.
| Tri-Clamp® Size | Outside Flange Diameter> | Inside Tube Diameter> |
| --- | --- | --- |
| 1/2" | 0.984" | 0.375" |
| 3/4" | 0.984" | 0.625" |
| 1" | 1.984" | 0.87" |
| 1-1/2" | 1.984" | 1.37" |
| 2" | 2.516" | 1.87" |
| 2-1/2" | 3.047" | 2.37" |
| 3" | 3.579" | 2.87" |
| 4" | 4.682" | 3.834" |
| 6" | 6.570" | 5.782" |
| 8" | 8.570" | 7.782" |