INDCO's November 2014 Top Seller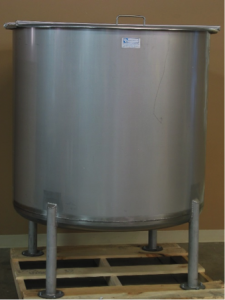 Stainless steel mixing tanks proved to be the November top seller for INDCO. INDCO's standard tank offerings typically range from 18 to 1600 gallons in volume. All stainless steel tanks are custom built to order. INDCO will guide you through a formal written quote, acceptance of your purchase order, drawings with customer approval, production and shipment. You can expect a quality built tank in typically 4-6 weeks after drawing approval.
The versatile and ruggedly-constructed 304 stainless steel tanks are fabricated by expert welders with top quality workmanship. The general mixing tank design features an open top with flanged lip for added strength. A 2B Mill finish inside and out with interior welds ground flush and brushed exterior welds is our standard industrial finish. A sanitary deluxe finish option is a 120-grit #4 finish with all interior welds ground flush and polished. Exterior welds are ground and buffed smooth. All welds are passivated and leak tested. All of the tanks can also be quoted in 316 stainless steel. A multitude of customizable features are available including mixer mounting brackets, heating or cooling jackets, surface finishes to 15Ra, electropolishing, drain valves, casters and lids.
Call INDCO for the most up to date stainless steel pricing and the industry's best possible lead times at 800-682-1660. Need help selecting the ideal tank and features for your process? Talk to one of our friendly engineers or email the team at engineer@indco.com. We can model agitation for various mixer and tank combinations with your product properties for optimized results. Pharmaceutical grade sealed sanitary mixing vessels are also available. See INDCO's sanitary mixing products or call for a quote. A 2 year manufacturer's warranty for parts and labor is included with your tank purchase.