Stainless Steel Mixing Tanks 102: Sealed Sanitary Mixing Tanks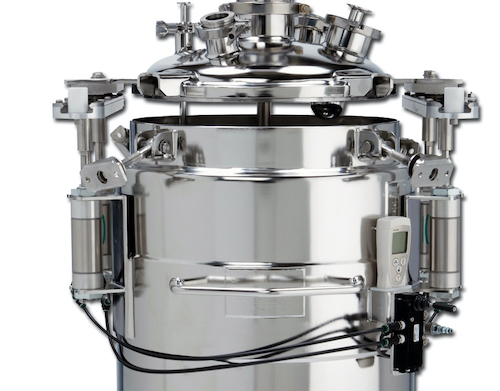 In our previous blog post, Stainless Steel Mixing Tanks 101, we investigated the features of open-top tanks for industrial mixing solutions. Today, we are taking it a step further with a closer look at how these types of mixing tanks are applied to the pharmaceutical and biotech industries, including precision-built, high quality tanks for aseptic blending and compounding.
The correct mixing equipment is crucial to getting the job properly accomplished in a timely, efficient manner. The mixing experts at INDCO are here to provide insight into this branch of sanitary mixing equipment, and to help you make an informed investment regarding your next purchase.
An Overview of Sanitary Sealed Mixing Tanks
Sanitary sealed mixing tanks usually consist of heavier gauge construction compared to open top industrial varieties. Heavy gauge elliptical heads normally comprise the tank lid and bottom. Lids are hinged with a gasket and hold-down clamps for smaller tanks whereas large vessels consist of a welded top head with access provided by ANSI flange manways. ASME Pressure Vessel and Boiler code design requirements must be met for applications exceeding 15 psi. Top-mounted mixers generally utilize either a Tri-clamp® gasketed sanitary flange for smaller units or an ANSI standard pipe mounting flange size, also with gasket, for larger ones.

The most common construction material is 316 or 316L Stainless Steel. The "L" in 316L designates low carbon. In some applications it is necessary to maintain a carbon content below .03% to increase resistance to corrosion and aids in the fabrication welding process. Molybdenum content of 2%-3% is what differentiates the 316 alloys from 304 and provides superior resistance to chemicals and corrosion. Highly polished and electropolished wetted surfaces, large radii and strict standards for weld and surface defects provide the sanitary and easily cleaned environment for the production of medical compounds and injectable drugs.

Heating jackets, site glasses, dip tube ports, temperature and flow measurement, and sanitary diaphragm drains are just a few of the multitude of available accessories for pharmaceutical and sanitary mixing tanks. Clean in place (CIP) and sanitize in place (SIP) systems are also common in these applications to maintain process sterility before and between batch production.


Choosing a Sanitary Sealed Mixing Tank
Sanitary mixers are known for their durability and versatility. Smooth, stainless steel tanks provide versatile mixing vessels for a wide range of not only pharmaceutical, but food and beverage, and cosmetic applications as well. The construction of these mixing tank surfaces is easy to clean, making it easy to maintain a sanitized and sterile processing environment. A formed top lip on the mixing tank provides strength and ease of movement.

Depending on your industry's needs, each sanitary mixing tank can be customized to optimize your workflow. Explore our product catalogue of stainless steel mixing equipment ideal for working in a laboratory setting, including clamp connections, dispersers and stirrers, shakers, and other mixing equipment accessories. Need help finding the right equipment for your mixing needs? You can submit the requirements for your tank by completing our tank data worksheet or contact us. The team at INDCO is always happy to assist you and we can optimize your complete mixing system design with consideration for your material properties, batch size and type of mixing process.