INDCO's July Top Seller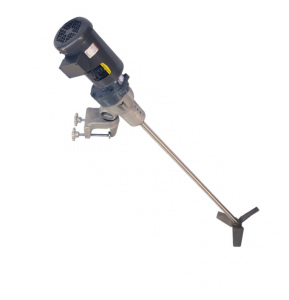 Every day INDCO supplies its customers with a large variety of mixing equipment for open top drums and tanks. Our GH-series heavy duty clamp mounted design is INDCO's most robust portable mixer line for open containers or those with slotted lids. The GH-200T was our top selling product for July 2014.
The GH- mixers feature a substantial cast aluminum clamp assembly and nosecone with a pressed-in bearing for maximum shaft support in a portable mixer. The mass of the clamp and nosecone combined with the 1 ¼" diameter shaft minimize vibration during operation. The clamp mount has 90° vertical and 360° horizontal adjustments for versatile mixer positioning. The GH-series produces high torque necessary for handling large batches of low viscosity liquids or small batches of heavier materials.
The GH-200T is an electric 2 HP gear-driven model with a 5:1 ratio gear reducer delivering 350 RPM. The totally-enclosed non ventilated Baldor motor is equipped with motor leads only and requires a three phase 230/460 volt electrical source. The 70" long shaft attaches to the motor coupler and one 17" hydrofoil impeller with set screws. All wetted parts are 316 stainless steel for maximum chemical resistance. Contact the INDCO sales staff at sales@indco.com for assistance with your application or a quote.