INDCO's Top Seller for June 2014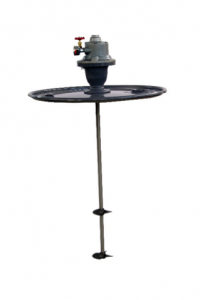 Every month we assist customers with mixer selection for a vast array of liquid products produced or stored in containers from laboratory scale beakers to tanks exceeding 10,000 gallons. The standard 55-gallon steel drum continues to be a popular container for production and distribution of liquid products. Our leading seller for July 2104 was the DL1-A drum lid mixer. Powerful and portable, INDCO's DL series direct drive drum lid mixer is excellent for medium viscosity materials and includes a standard 55 gallon drum lid. The 1-1/2 HP air motor provides maximum agitation when supplied with 100 PSI @ 70 CFM. See our air motor requirements performance guide at https://www.indco.com/resources-information/resourcePDFs for operation at lower air flow. The speed control valve provides operation between 300-3000 RPM. The 30" shaft attaches to the motor coupler and two 5" impellers with set screws. All wetted parts are 316 stainless steel for chemical resistance. This model features a Gast air motor which is known for its rugged construction and reliability. Air motors deliver variable speed for maximum flexibility or multiple applications. They are lighter weight than our electric models and reduce the possibility of explosion in a combustible environment.
Whether the DL series or one of our many other mixer product lines is the right choice for your application we would love to hear from you. Our certified customer service representatives and experienced applications engineers are available every day to answer your questions and assist with mixer selection or sizing based on your materials and working volume. We find every customer and application to be intriguing and enjoy adding value wherever we can. Call INDCO today for the complete solution to all your industrial mixing needs at 800-682-1660.