INDCO Can Custom Design Your Mixer
When approached with a unique mixing application, Mike Grady from our engineering department spoke directly to the customer and listened to his needs. This customer wasn't looking for something in our standard mixer line. It was going to be a new application for them so it took some collaboration of minds.
Mike concluded after asking several questions that INDCO could help the customer and came up with a custom design for a mixer to fit a tote with a drum lid size opening. It took some details from the customer on their tote dimensions and material specifications. Mike presented them with a unit that had enough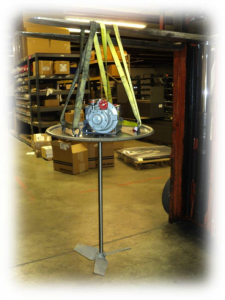 horsepower for their volume and material and yet would be versatile enough to allow them to lift the mixer with their forklift. Special attention had to be made to ensure critical speeds would not cause the unit to vibrate. Since then, Mike has designed another custom mixer for this customer to meet similar requirements for a different tank.
INDCO's experienced technical staff can develop your complete custom mixing system solution. The engineering department is available to speak directly to the end user to be sure they understand and design a model appropriate for the application. Immediate response and attention to details are advantages of working with INDCO. Call us anytime.