How to Install & Operate a Clamp Mount Mixer - CL5-A 3/4 HP Product Overview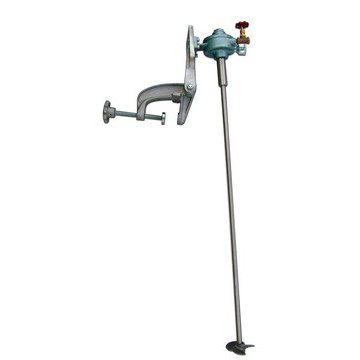 A clamp mixer is a versatile piece of equipment that can be used for a variety of mixing applications in various industries, including food and beverage, pharmaceuticals, cosmetics, and chemicals. The mixer is designed to be clamped onto the side of a tank or vessel, allowing it to be used in a variety of settings.



4 Easy Steps to Install and Operate a Clamp Mount Mixer:
Insert shaft into coupler and tighten set screws.
Insert propeller onto shaft and tighten set screws.
Hand-tighten the c-clamp onto the side of the mixing drum.
Adjust the mixing speed by turning the needle valve control to the appropriate level.
To install this mixer, you will first need to select the appropriate size and type of mixer for your application. Once you have the right mixer, you can move forward with the setup process. INDCO offers a variety of clamp mount mixers to fit your specific needs.
INDCO's Economy
Clamp Mount Mixers
are portable and perfect for use in laboratories, pilot plants, light production, or chemical feed systems. The clamp mount mixers are equipped with universal adjustable clamp mounts.
Featured in this video is the
CL5-A 3/4 HP Clamp Mount Mixer.
This clamp mount mixer is an economical option for mixing drums or small batches of light to medium-viscosity materials. The 36" long mixing shaft attaches to the motor coupler and one 4" impeller with a set screw. The adjustable clamp allows for vertical positioning of the mixer and tightens to a container or stand with a hand knob.
All wetted parts of this clamp mount mixer are stainless steel for chemical resistance. This model features a Gast air motor, which is known for its rugged construction and reliability. Air motors deliver variable speeds for maximum flexibility or multiple applications.
To read more about this industrial mixer, click here:
https://www.indco.com/shop/product/CL5-A/three-fourths-HP-air-direct-drive-economy-clamp-mount-mixer
To watch the video on YouTube, click here:
https://www.youtube.com/watch?v=-gYGNavCQqg