Industrial Mixers in Metals Mining and Production
Metals are at the core of countless products and even entire industries. From steel to aluminum, copper, nickel, lithium, and even gold and silver, many things that we take for granted in daily life would not be possible to create without effective metals mining. Furthermore, metals are key materials in critical near-term initiatives to improve U.S. infrastructure and develop cleaner energy technologies.
What do all of these materials have in common? They are mined from the earth and require multiple process steps to produce finished metals from raw ore. Maximizing the yield of these material processes is critical and industrial mixers play a key role.
Let's take a deeper dive into
INDCO
industrial mixers at work in the metal mining industry.
The Best Industrial Mixers for Metals Mining
Virtually every step in extracting metals requires process homogeneity. Effective solids suspension and high flow with low shear are central to successful agglomeration, precipitation, and leaching processes. In these processes, metals are separated or dissolved into a solution for recovery in subsequent processes also requiring agitation.
Top-mounted tank mixers such as INDCO's TM-series equipped with hydrofoil impellers provide high flow with minimal shear and energy consumption. The FMG-series tank mixer line is ANSI flange-mounted for enclosed tank processes and can be equipped with a mechanical seal to contain vapors where required.
INDCO tank mixers feature robust motor and gear box design with heavy-duty support bearings and mixer shafts for demanding high-solids applications. Mixing impeller options include hydrofoil, axial flow turbine, Rushton, and radial designs.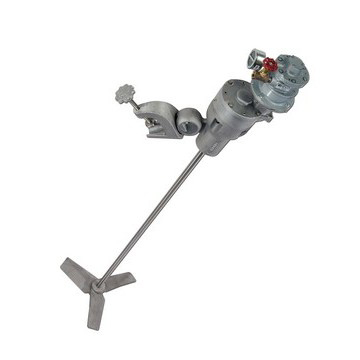 In addition to the core extraction processes, there are a host of ancillary tasks for which industrial mixers are used. Chemical concentrations are often optimized prior to introduction, and therefore, smaller tank-mounted or portable mixers are ideal. INDCO's full range of mixers for portable containers includes the GH-series clamp-mounted tank mixers with hydrofoil impellers. The GH-100V, for example, is a 1 horsepower electric mixer with variable speed control. The GH-400A is a pneumatic option where air power is preferred for hazardous environments.
Additionally, INDCO offers full product lines for mixing in drums, IBC totes and 5-gallon pails. The TL-series IBC tote mixers are an economical choice for mixing light liquids in totes before or during dispensing. The heaver-duty BGTC-series mixers are bracket-mounted for more rigid connection to the tote cage suitable for high-density, high-solids, or more viscous materials.
Industrial Mixers in the Alloying Process
Following the production of pure metals, the alloying process—or mixing of metals—becomes very important to the supply of metals suited to an almost infinite range of uses and environments. Mechanical strength, corrosion resistance, conductivity, and heat transfer properties are just a few of these considerations.
Alloying includes smelting one or more base metals with the addition of other metallic and/or non-metallic materials. As with pure metals extraction there are additional ancillary mixing processes for which industrial mixers are utilized. INDCO's full line of portable mixers are applicable and our laboratory scale mixers, mixing containers and stands and worktables are perfect choices for metallurgy test labs.
Finally, virtually every chemical process-based operation requires some degree of wastewater neutralization and elimination. Industrial wastewater processes are often designed to settle out solids resulting from chemical or other production, dilute chemical contents to meet EPA disposal requirements, or adjustment of acidity and alkalinity.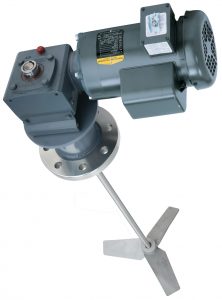 The nature of the elements to be removed and the operating environments can be quite diverse. For example, solid waste may be dense and thus require higher horsepower and torque, or highly acidic processes may need to be neutralized inside a sealed mixing tank thereby requiring more chemically resistant mixer components and perhaps a mechanical seal.
Customized Mixers for Wastewater Applications
For these and other industrial wastewater mixing applications, standard or customized mixers can be created to meet application-specific needs. Mechanical seals prevent hazardous fumes from escaping the vessel and are typically available with a wide range of metallic and elastomer components. Mixing shafts and impellers are typically 316 stainless steel and can be upgraded to include Hastelloy and other alloys as well as Teflon, Halar, and other chemically resistant coatings for more corrosive applications.
When in doubt regarding materials of construction, required horsepower, number or type of impellers, or any other aspect of the mixer in question, consult with your mixing equipment manufacturer—their engineers should be happy to assist.
About INDCO
Located in New Albany, Indiana, INDCO is a leading manufacturer of industrial mixers. Since 1975 they have designed and manufactured a completed lineup of mixers for batch sizes up to 50,000 gallons. They use premium brand components in their robust designs to deliver high quality mixers that earn their customer's trust. In addition to premier equipment, INDCO prides itself on providing fast, friendly customer service and immediate technical support. Full information is available on their comprehensive website, www.INDCO.com, by calling (800) 851-1049, or via email at info@INDCO.com.
Have questions about custom mixing equipment for metals mining and production?
Contact us
to get in touch with an engineer!