Our Guide to Choosing the Right Paint Shaker or Tumbler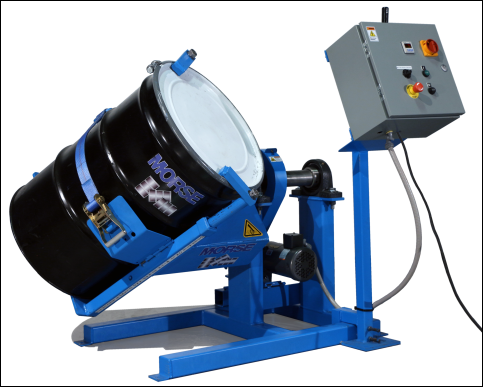 Paint mixing is a craft that requires skill and expertise. The industry is continually evolving as new formulations, practices and techniques are developed allowing for unique finishes and bolder, more interesting colors. But one aspect of paint mixing that will never change is the need for equipment that will stand up to the test of time and reliably produce quality results. We know the value of this at INDCO, which is why we pride ourselves in working with the paint industry to provide outstanding equipment expertly designed to give painters and mixers the tools they need to create consistently stunning finishes. One tool that perhaps serves the greatest use to paint industry professionals prior to application is the paint shaker.
For professional paint mixing, commercial mixing equipment designed to withstand heavy, repeated use, is a must-have. Paint shakers form the base of your mixing equipment arsenal, which is why choosing the right paint shaker is vital to a smooth, consistent, and high-quality product. Paints can be either low-viscosity or high-viscosity fluids, which means your equipment needs some power behind it for a homogenous finished product regardless of viscosity.
A few things you will want to take into consideration when choosing the right paint shaker are available space, location, the volume of paint you will be mixing, and whether or not you will be adding anything to the paint as you go along. There are several options out there for paint shakers depending on your needs, including gyroscopic shakers, vortex shakers, tumblers, rotators, rollers, and shakers.
Gyroscopic Shaker
Gyroscopic shakers, or gyro paint mixers, turn paint pails or cans in every direction through both horizontal and vertical movements to blend and mix thoroughly. Because of the contained motion of these shakers, they are quiet, making them a solid choice for sales floors and retail stores where you might be helping customers while also mixing custom batches. Products like our Multi-Size Gyroscopic Mixer are a great choice for convenient 1-gallon and 5-gallon sizes. The gyro paint mixer ensures a homogenous and high-quality finished product.


Vortex Shaker
For high performance and durability, vortex commercial paint shakers are worth the investment for your paint shaker. The 5 Gallon Pail Vortex Mixer features a low drop-in for quick loading that makes operation in a busy environment easy. An isolation system dampens structural vibration, so you won't have to worry about instability while you're mixing. This also works to keep your commercial paint shaker operating smoothly and quietly, perfect for use on the sales floor. If you find yourself needing to set your mixer to variable times or desire smaller increment adjusting, the digital display timer on our vortex shaker will make mixing paint much easier.
Tumblers
Tumblers remix settled ingredients while rotating continuously in one direction. With a manual timer, you have the option to stop mixing at any time and restart later. Commercial paint shakers like the 5-Gallon Dual Can Tumbler feature an adjustable crossbar for mixing any sized can while ensuring the product is securely mounted and can even rotate two different sized cans at once. Options like variable speed, single and dual can mounting, pneumatic air and electric power, and explosion proof motors make this style one of the best choices for versatility when it comes to choosing the right paint shaker.
Rotators & Rollers
If you are looking for a solution to mixing small batches of paint, rotators and rollers can get the job done. Commercial paint shaker models like the Medium Laboratory Roller Mill can roll a gallon or two-quart cans and work well for small batches of paint, ink, pigment, and adhesives. Rollers gently rotate the can to ensure ingredients are mixed thoroughly all the way through, rather than shaking or turning like other paint shakers.
Shakers
Classic paint shakers offer a more economical choice for getting the job done without as many bells and whistles. Classic commercial paint shakers, like the Tornado II Paint Shaker and the Cyclone Air-Powered Paint Shaker feature electric and air powered options respectively along with the durability and quality build that allows you to mix pints, gallons, and quarts in just a few minutes. Ensure paint is mixed thoroughly with orbital, side-to-side, and up/down motion options.
Contact Us
Whether you're interested in learning more about choosing the right paint shaker can improve your workflow, or would like to develop a customized solution for your business's unique needs, our team of expert engineers are ready to help. Contact us or call us 1-(800)-851-1049 to get started today.