What Sets INDCO Lab Mixers Apart from the Rest?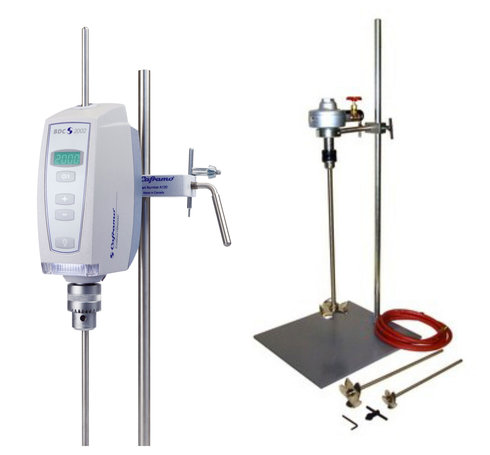 "Unparalleled quality with unparalleled care" isn't just something we say, it's everything we do. It's the reason why for nearly 50 years INDCO has been recognized by its customers as a leading name in the industrial mixing space. At INDCO, we manufacture top quality industrial mixers and supplement them by distributing some of the best specialty mixing product brands and accessories. Our products can be configured and ordered directly from INDCO with some of the best lead times in the business. In fact, many of our standard products can be shipped within two business days, with select offerings available for same-day shipping. Even better, because we build most of the products we sell, we are your first source for replacement components specifically designed for our mixers and accessories.
While we carry a diverse product line for jobs large and small, a popular category for many small-scale jobs are our laboratory mixers. A lab mixer (often referred to as a "lab stirrer") is a small-scale mixer used to mix, emulsify, integrate or dissolve ingredients and samples. For lab settings, the appropriate equipment is essential to attain desired and required outcomes where consistency is paramount for product and governing standards.
When it comes to selecting a lab mixer from INDCO, air or electric-powered options, speed control, horsepower, torque and accessory options should all be considered to meet the demand of your mixing applications.
If an electric mixer is needed for light applications with lower viscosities and batch volumes, low-torque, electric lab stirrer models like our ES101, ES103A and ES105 are great direct-drive choices. For medium-duty applications dealing with light to medium-bodied materials in volumes up to five gallons, our 1/15-1/8 HP lab mixers will get the job done right. For high-volume batches incorporating high-viscosity materials, try our most popular model, the DC1850 heavy-duty stirrer. This 1/5 HP model features touchpad controls and digital displays to ensure maintained speeds as viscosities change during the mixing process.
If a pneumatic stirrer is required, INDCO manufactures a variety of models featuring GAST air motors in both direct and gear-reduced options with an array of torque ranges from 5.5 in-lbs. to 130 in-lbs. for heavy-duty applications. Our air-powered models offer safety when working with solvents or other flammable materials, and come in variable speeds, are typically lighter weight for mobility and will not burn out from overload.
While many of our lab mixers come ready-to-mix out of the box and will work for many, we also offer customization — just another INDCO advantage. Our team of engineers are ready to work with any industry from pharmaceutical and cosmetics to paintings and sealants to configure a mixer that is built to suit its specific needs and have the technical knowledge and customer service support to make the configuration process a breeze.
Feel free to browse our lab mixers and accessories online or in our catalog at any time. Our customer service team is always available to answer any questions, or, if you are ready to discuss your needs with an INDCO engineer, visit our contact page today or call us at 1-800-851-1049 to get started.