Industrial Mixers for Hand Sanitizer Production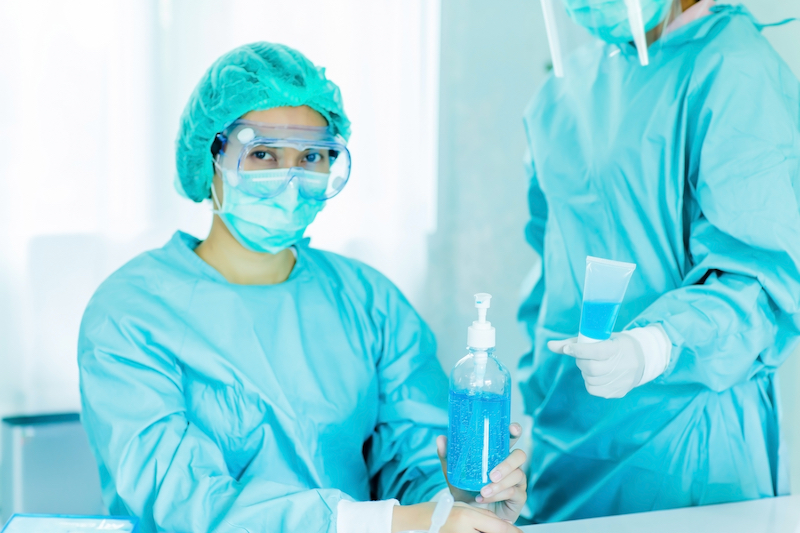 The COVID-19 pandemic has significantly increased the demand for sanitizing agents of all types including liquids, wipes, foams, mists and countless other products for sterilizing surfaces to prevent spread of the virus. Hand sanitizer production in particular has skyrocketed as traditional producers of these products face unprecedented demand. Additionally, new producers such as those in the spirits and distillation industry have also responded to meet demand as ethyl alcohol is one of the most effective active ingredients for hand sanitizers.
INDCO engineers have supported hand sanitizer producers working in multiple batch sizes and types of mixing containers. The intermediate bulk container or IBC tote is a very common one for mixing and efficiently distributing these products in a single vessel. Mixing of liquid and gel hand sanitizers in IBC totes has been our most common type of application.
Since isopropyl or ethyl alcohol can produce flammable vapors and are very typically the key ingredient for these sanitizers careful consideration must be given to the equipment used for mixing in secondary ingredients which can include fragrances, dyes and polymers to provide a gel consistency.
INDCO's bracket-mounted IBC tote mixers such as the BGTC-400A have been the most popular mixer format for hand sanitizer producers. The air-powered models are favored by customers for their intrinsically safe operation as they do not create a spark and feature integrated speed control via the included air valve. For those with facilities that do not have compressed air "explosion-proof" electric models are available. These models are single-speed and feature motors rated for Class 1 Division 1 environmental applications which encompass a range of hazardous vapors present in the atmosphere.
Gel products tend to present the most challenges for mixing in totes which are not geometrically optimized for product flow. Stratification or incomplete homogeneity can occur if the mixer is inadequate. Generally, multiple large-diameter folding impellers such as INDCO's 14" model FP141 are utilized on a gear-driven mixer to maximize product contact surface area, torque and depth in the tote. INDCO's standard gear-driven tote mixers feature up to three folding impellers. In most cases these have provided the needed agitation. However, some gel products can reach viscosities up to 5,000 cps and may require an additional impeller which has been the most common customization of the mixer.
Those producing low-viscosity or "water-like" sanitizers have a greater range of products from which to choose. The same safety considerations apply to motor selection. However, since low viscosity products flow much more easily than gel-based formulations and maintain momentum direct-drive mixer models may also be considered. Although gear-driven systems with larger impellers produce greater agitation and a better flow pattern for mixing, adequate results can be achieved with smaller mixing impellers provided they fit through the 6" cap opening on most totes. The result is an economic savings for the operator due to the lower expense of smaller mixer components and the absence of gear box cost. The BTC-11A is a direct-drive bracket style mixer that latches to the tote cage similar to the aforementioned BGTC-400A. INDCO's TL-series is the most economic option available. These mixers are integrated directly into a standard polyethylene tote cap and simply screw onto the top of the tote. The model TL-13A and model TL-050E are air-driven and explosion-proof electric versions, respectively, of this product. Watch this video to see a tote lid mixer and bracket mount mixer installed on an IBC tote.

In addition to polyethylene IBC tote applications as described above INDCO engineers have worked with customers utilizing sealed stainless-steel totes and other vessels including cylindrical mixing tanks. For each application environmental considerations and available power source dictate motor selection and other mixer features including those required for sanitary production. For example, INDCO's STL-series mixers are designed for use in stainless steel totes and can be fitted with mechanical or Teflon seals for vapor control. Furthermore, components can be polished or coated for ease of sterilization between batches. These same seal and impeller options exist for our FMG-series and TM-series top mounted mixers for cylindrical tanks.
INDCO, Inc. welcomes customer questions of all kinds relative to hand sanitizer mixing, mixing in totes and any other industrial mixing applications. Call our customer service representatives or one of our engineers to discuss your mixing needs at (800) 851-1049.