Introducing INDCO's New Heavy-Duty Stainless Steel IBC Tote Mixer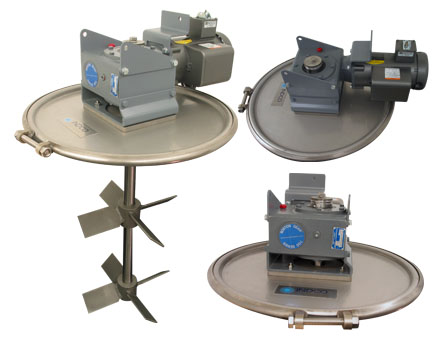 At INDCO, we always seek to expand our product line to meet the needs and demands of our customers. One such need we have seen regularly is for an industrial mixer to agitate viscous products in stainless steel intermediate bulk containers, or "totes".  We have, therefore, introduced a new Heavy-Duty Stainless Steel IBC Tote Lid Mixer, our STL-series.  The product is suitable for a wide range of tote mixing applications including heavy-bodied paints and primers, varnishes and can be configured for food grade products such as honey.
The mixer comes mounted on a standard 22" heavy gauge stainless steel lid, complete with locking ring and gasket.  A lip seal beneath the shaft bearing is included.  A sturdy 1 ½" 316 stainless steel shaft and (2) 4-bladed axial impellers are standard and available polished for food grade use.   Standard shaft lengths are for 350-gallon stainless steel totes but the product can be configured for larger containers by our engineers. Because of the robust gear-driven design the mixer is heavy and therefore includes lifting eyes for ease of removal for cleaning or for movement from one tote to another.
If you have questions about our new Stainless Steel IBC Tote Lid Mixers contact sales@indco.com and our engineers can develop the perfect system for your mixing needs.