INDCO's August Top Seller
Nobody equals the selection of portable mixer stands for drum and IBC totes offered by INDCO. Manual, electric and pneumatic lift stands are available in painted finish or stainless steel. With floor-mounted and portable models with casters to choose from INDCO can supply the perfect mixer stand for your application. INDCO's model PSA-BT mixer stand for IBC totes was the top seller in August 2015.
INDCO's heavy-duty extended arm mixer mounting stands are designed to work with all of INDCO's c-clamp mount mixers. All units are ruggedly constructed from heavy-gauge plate steel and square tubing. The mixer mounting arm extends out 18" from upright to accommodate drums or IBC totes. The mixer mounting plate extends horizontally 7-3/4" from angle at arm and is 4" high. This portable model is equipped with two fixed casters and two swivel casters which have brakes for securely locking the stand in place. The portable IBC tote base design will accommodate containers up to 48" wide.
The air lift model requires 10 CFM @ 40 PSI to adjust the stand from a minimum height of 56" to a maximum height of 104". The air cylinder raises and lowers with a three position valve marked up, down or neutral with a quic-connect fitting for connection to your air line supply. All mixers are sold separately.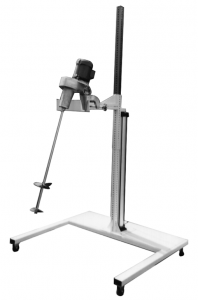 This product is backed by a 1 year warranty against defect materials and workmanship. Average lead time from receipt of order is 5 days before shipment. Contact INDCO sales department at 800-682-1660 for a quote.