July 2014 INDCO Catalog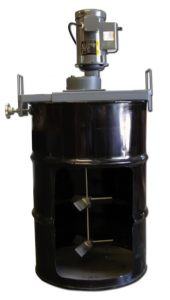 Look for your July INDCO catalog in the mail this week. The cover features a BM-7T bracket-mount drum mixer. This mixer is ideal for mixing medium to higher viscosity materials in 55 gallon drums. The rugged steel construction mounting bracket straddles the tops of containers and easily adjust to fit 18" to 31" diameters. The electric motor gear reduced model featured offers 350 RPM. Electric and air variable speed models are also available. To learn more about INDCO mixers and to see them in action, visit our YouTube Channel at www.youtube.com/indcoinc.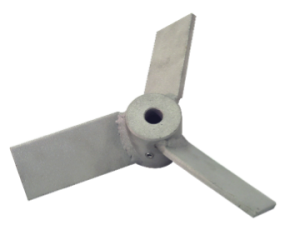 Axial flow turbines are a good choice for medium viscosity applications or where higher shear than that provided by hydrofoils or marine style propellers is required. The STI-9 is a 9" diameter axial flow impeller and is included on the above bracket mount mixer. The 2" blade width and the 45 degree pitch angle provide the agitation to move viscous liquids and break down particles. The left hand design produces downward fluid motion with clockwise rotation as viewed from above. This 316 stainless steel axial flow turbine features blades that are welded to the hub and is finish machined to tight tolerances. Turbines can be ordered with custom keyways or polished to surface finishes as fine as 15Ra.
Additional catalogs can be ordered online at https://www.indco.com/catalog/printed-catalog or simply by calling the sales department at 800-682-1660.