Clamp Mount Bung Entering Mixers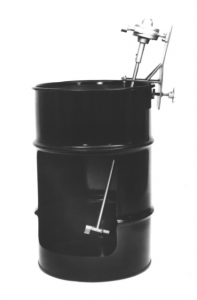 There are many products on the market for mixing or re-suspending settled liquid materials in a 55 gallon drum. Drums often have a lid with bung holes. A standard 2" NPT opening allows for installation of a mixer through the bung hole. Mixer models that screw directly into the bung hole are a nice option for closed drum mixing but a clamp-mount bung entering mixer offers the versatility of mixing in the drum with or without the lid.
INDCO's CB- series and CBG- series clamp mount bung entering mixers mount to the rim of steel drums. As illustrated in the mixer photo, the rim of the drum rests between the two clamp tabs and the pad of the hand-tightened threaded shaft. This scenario allows for mixing in an open drum. When the lid is installed on the drum, the mixer clamp can angle and rest the rubber feet on the top of the drum lid allowing for an appropriate angle to enter the mixer shaft through the 2" bung opening. This versatility offers the most for your money if both open and closed top drum mixing is used often.
CB-series mixers are the direct drive option available in both air or electric. These mixers are ideal for low to medium viscosity materials. The clamp, motor, shaft and folding impellers come complete on the mixers and are ready to use. The CBG-series mixers include a gear drive for lower RPM allowing for mixing higher viscosity materials such as heavy paints, resins and polymers. Air and electric motor options are also available and ships complete ready to use with minimum assembly. For additional information or help with sizing requirements visit www.indco.com or call 800-682-1660.