March Featured Products – Container Accessories
The spring weather tends to introduce an increase in home improvement projects. Buckets of driveway sealant, grout and paint may come to the top of the list. There are several products on the market to help make those projects a little simpler. The following featured products may help a project when working with 5 gallon pails.
The M-1 pail opener with a 16" length makes it safe and easy to open and reclose plastic pails without distorting the lid. Lightweight and constructed of strong aluminum, these pail openers will fit lids with a lip up to 1".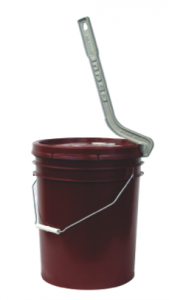 There are products on the market to assist with closing those cumbersome metal pail lids. The model 5070 is an economical model that locks four lugs with one easy motion. This rugged sealer fits all metal 11-7/8" lids of any thickness. If a deluxe model is in your budget, the SSMD-CT1 and SSMD-CT-2 models will seal all 16 lugs at once with its linkage design. These deluxe models are ideal when working with pail lids 11" to 11-1/4" and is very quick and efficient with a single motion.
For more information on these great products, visit www.indco.com or call 800-682-1660.