Mixing Turbines: Do I need Axial or Radial Flow?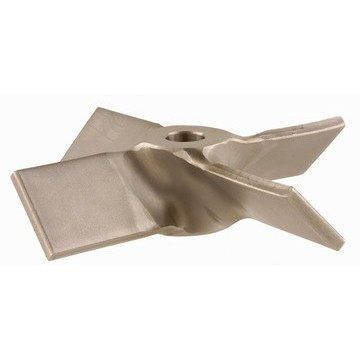 Industrial mixing impellers come in a wide variety of designs and sizes. The term mixing "turbines" is generally reserved for a family of impellers consisting of a mounting hub machined from stainless steel round stock with three or four blades produced from flat plate welded to it. The descriptors "axial" and "radial" are used with the two most common designs. Although the steps to produce each style of turbine are similar, the orientation of the blades and therefore the applications for use are significantly different.
"Axial" refers to the direction of flow produced by the impeller. The axial flow turbine is used with medium viscosity fluids. It consists of either three or four rectangular blades welded to the hub at an angle of 45 degrees. The flow produced is downward along the axis of the mixing shaft and back up the sides of the vessel. The broad blade surface area maximizes movement of liquids that do not tend to stay in motion. In a typical axial flow turbine application, the impeller is from one half to two-thirds of the tank diameter and can be as high as 80%. A gear reducer is normally required to supply the necessary torque for this type of application.
Similar to the axial flow turbine, the term "radial" describes the flow of liquid resulting from the impeller. The radial turbine blades are welded to the hub with the blade surfaces parallel to the shaft. Therefore, this impeller pumps liquid sideways from the shaft outward to the tank walls. The flow separates into two components after reaching the tank wall; upward and downward. Radial flow turbines are a popular choice when mixing in shallow tanks with large diameters. They are also commonly used in combination with gas sparging systems where a gas is pumped into the liquid through a hollow sparge ring below the radial flow impeller. Similar to the axial flow turbine the radial flow version requires significant torque and horsepower.
Axial flow turbine applications are much more common than those for the radial design. INDCO provides both turbine designs constructed of 316 stainless steel standard in sizes from 3" to 24" diameters. Call us for a quote in larger sizes. All turbine impellers are available with industrial grade or buffed mirror finish based on your application needs.